Discover the Master Craftsmanship and Timeless Beauty of Tasmania Timber Desks, Designed by Craig Howard & Son
Experience the captivating allure of Tasmanian timber desks and timber desk tops, masterfully crafted by Craig Howard and Son at Heritage Furniture. As renowned creators of stunning pieces, we invite you to explore our exceptional range of wooden desks and immerse yourself in the world of exquisite timber craftsmanship.
Unveiling the Beauty of TasmaniaN Timber Desks
Indulge in the natural beauty of Tasmanian timber, known for its unique characteristics, durability, and sustainable qualities. From captivating Sassafras to classic Mahogany or elegant Celery Top Pine, our carefully selected timbers showcase the finest quality available.
Experience the unparalleled beauty and character of Tasmanian Blackwood with its deep warm hues to the timeless appeal of Huon Pine and the elegant versatility of Tasmanian Myrtle. Our handcrafted furniture showcases the unique patterns and colours of these exquisite timbers to their maximum.
Discover the perfect match for your office space, whether it's a solid wood desk or a timber desk top that elevates any work environment.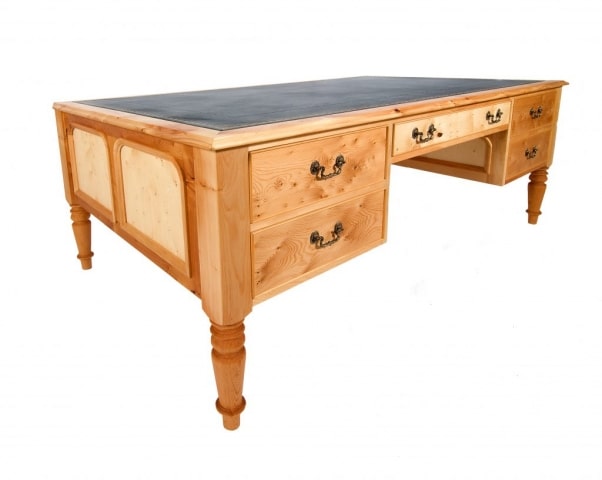 Transform Your Workspace with Solid Wood Desks
Elevate your workspace to new heights with Craig Howard & Son's range of solid timber desks with drawers. Indulge in the elegance and sophistication our desks bring to your office or home environment. From traditional to contemporary settings, our versatile designs offer the perfect complement to any interior aesthetic. Discover the allure of solid wood desks that invite productivity and inspire creativity.
Exquisite Craftsmanship for Lasting Elegance
Our skilled craftsmen employ painstaking techniques such as joinery and hand-finishing to create desks of unparalleled elegance. Designed to withstand the test of time, each piece exemplifies durability and enduring beauty. Explore our desks, featuring stylish drawers and innovative storage solutions, blending functionality with timeless design.
We Value Client Collaboration
At Craig Howard and Son, client collaboration lies at the heart of each desk we create. From the very beginning, we engage closely with our clients, whether they are just around the corner or across the globe, to capture their vision and bring it to life.
Through open communication and a deep understanding of their needs, we create not only functional but also stunning desks that harmoniously fit into any space. Our clients become an integral part of the process, ensuring that their unique style and preferences shine through in the final product. Together, we embark on a journey, crafting desks that not only meet but exceed expectations.
Heritage Furniture for Australian Solid Wood Desks
Transform your workspace into a place that inspires and embrace the elegance of Tasmania timber office desks today.
Explore our website or visit our Tasmanian showroom to witness firsthand the captivating artistry behind each piece.
For a custom quote, CONTACT US TODAY