Discover the Unique Beauty and Durability of Heritage Furniture's Beds, Wooden Bed Frames and Bedside Tables
Handcrafted with sustainably-sourced Tasmanian timber hardwoods, Heritage Furniture's wooden bed frames and bedside tables are the perfect way to add style, sophistication and warmth to your bedroom.
Our solid timber bed frames are created using traditional craftsmanship and sustainable practices. Each bed frame is carefully constructed with the highest quality materials, ensuring that each piece is elegant, bespoke, and long-lasting. From classic designs to modern styles, Craig Howard and Son have something to suit every taste and budget.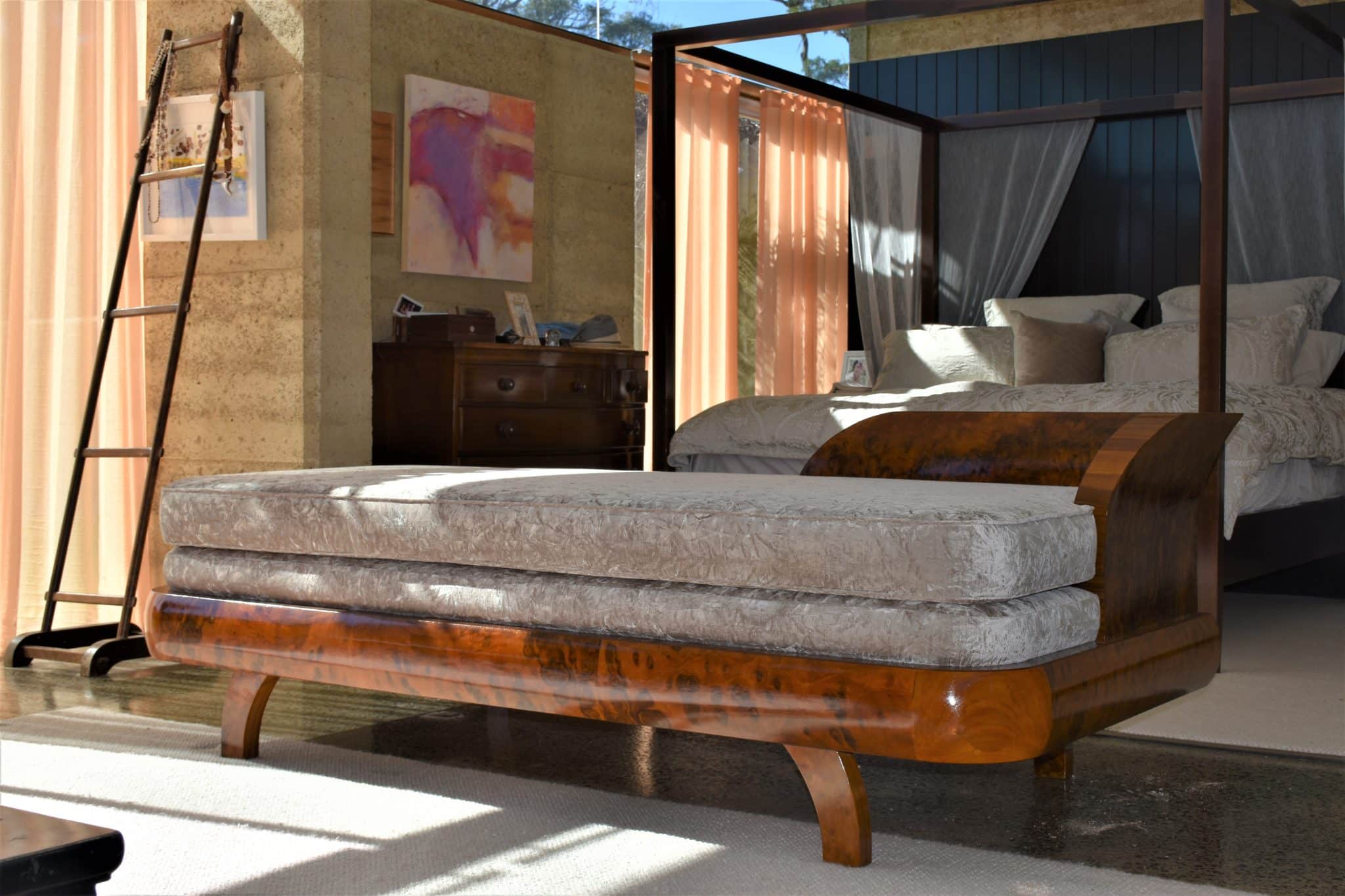 Timeless Beauty
Heritage Furniture believes that a beautiful and comfortable bedroom starts with a bespoke bed that is designed specifically for you. Our handcrafted beds, made from striking Tasmanian timber, are as unique as the sleepers who enjoy them.
From the hand-selecting of logs to the final touches, our commitment to quality craftsmanship shines through in every detail. The result? A bed that is not only beautiful but also comfortable and built to last.
Heritage Furniture's wooden bed frames are available in several beautiful Tasmanian Timbers, including Tasmanian Blackwood, Huon Pine, Tasmanian Myrtle, Celery Top Pine and Tasmanian Sassafras. Each finish is designed to enhance the natural beauty of the wood. They are also hard-wearing and easy to clean, so you can enjoy your bed frame for years to come.
Sustainably Sourced Timber
We only use native Tasmanian and Australian hardwoods that have been sustainably harvested by local loggers who follow strict guidelines to ensure that they are harvested from areas where there has been no significant damage caused by fire or disease. These sustainable harvesting techniques help preserve Tasmania's natural environment while also ensuring a steady supply of quality raw materials for Heritage Furniture.
Quality and Durability
All of Heritage Furniture's wooden and timber bed bases are built with quality and durability in mind. The materials used are designed to last for years, ensuring you can enjoy your bed frame for years to come. Heritage Furniture stands by its commitment to quality and craftsmanship, so you can rest assured that your bed frame is built to last.
Customisation Options
Heritage Furniture also offers customisation options for its wooden and timber bed frames. Whether you are looking for a classic design or lean a little more modern, we have something to suit every taste and budget.
We cater for traditional-size beds, including:
Wooden King Bed Frame
Wooden Queen Bed Frame
Wooden Double Bed Frame
Wooden Single Bed Frame
Our team of experienced designers and craftsmen can also work with you to create a bespoke timber bed base that is truly unique and one of a kind.
Ask us about our wooden bedside table range, including:
Timber Drawers
Timber Tallboys
Solid Timber Chest of Drawers
Tranquil Bedrooms with Craig Howard and Son
Transform Your Bedroom with Heritage Furniture Wooden Bed Frames
From the moment you sink into your bed at night to the moment you wake up refreshed in the morning, you'll be reminded of the personal touch and expertise that went into crafting your bespoke bed.
Contact Us and discover how we can help you transform your bedroom into a restful space that truly reflects your style and needs.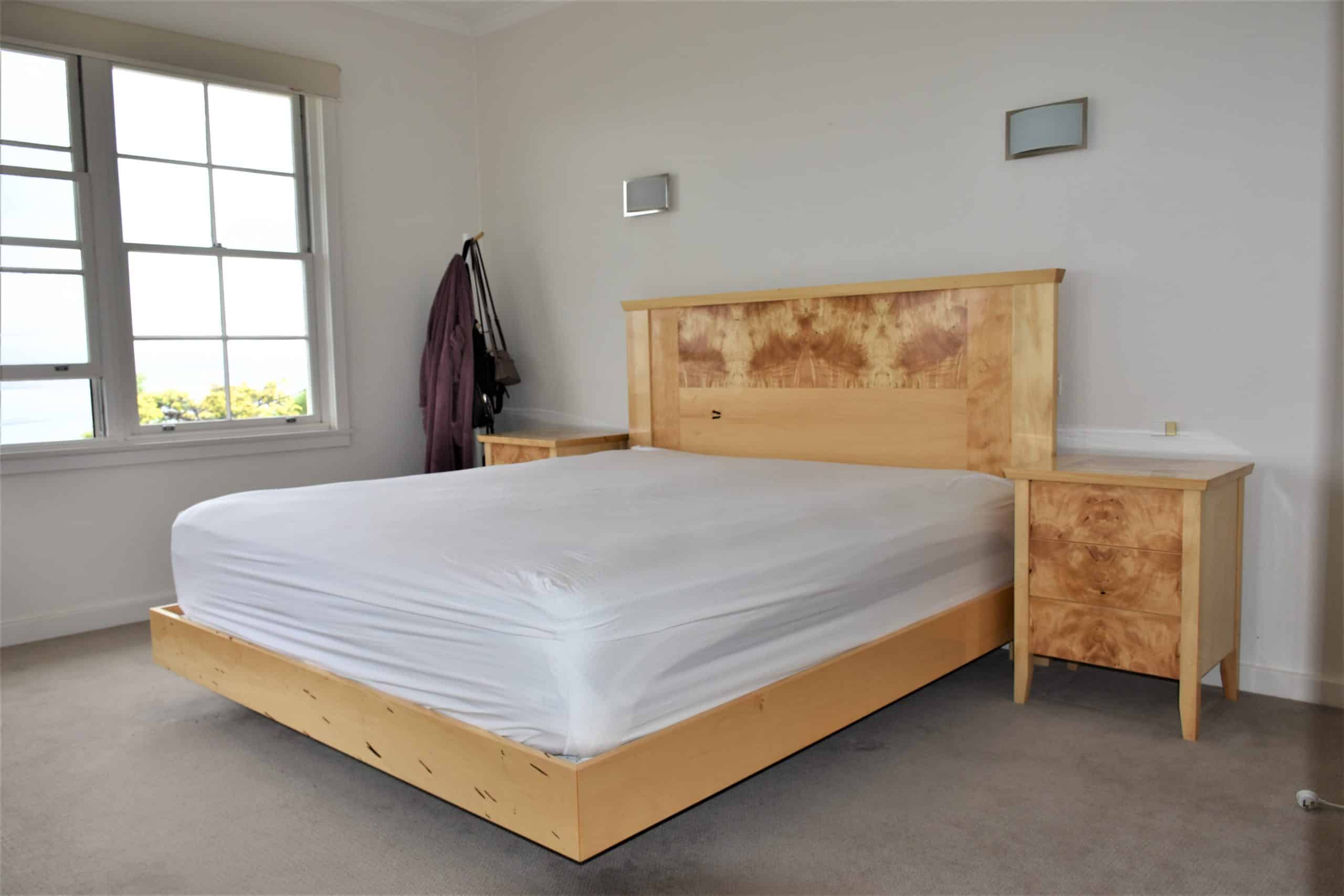 birdseye huon pine bedroom suite
Starting at $19,000 (ex GST)
For a custom quote, CONTACT US TODAY