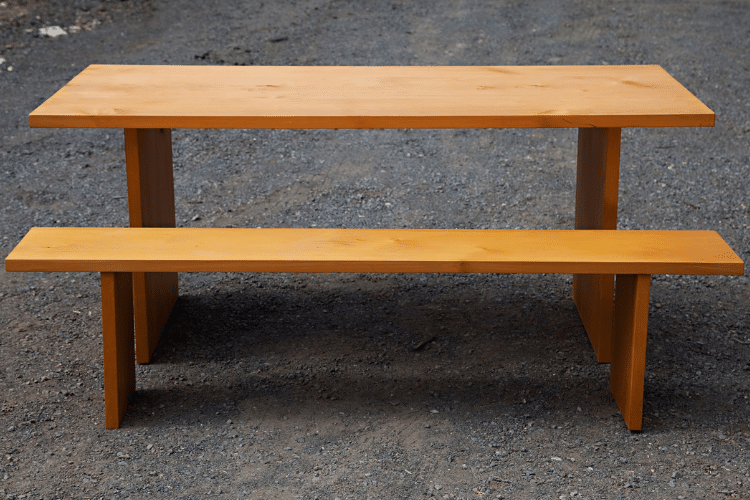 At Heritage Furniture, we pour our heart and soul into crafting exquisite solid timber dining tables to become the heart and soul of your home. With over 50 years of experience, it's in our nature to handcraft dining tables of the highest quality to last a lifetime, creating pieces that will be passed down from generation to generation.

Conversation Pieces
A dining table is more than just a functional piece of furniture – it's a reflection of your personal style and a gathering place for cherished family and friends. Imagine sitting around a beautifully crafted oval timber dining table, its surface showcasing the rustic charm of a slab wood you selected. Or, does the natural beauty of a Tasmanian Blackwood dining table work in your space?
With a timber dining table set from Heritage Furniture, you'll create an inviting space that exudes warmth and character, where the furniture becomes a conversation starter.
Bespoke Solid Wood Dining Table and Chairs
If you appreciate solid wood's unparalleled beauty and craftsmanship, our bespoke dining tables are a testament to our dedication to timber furniture. Each piece is designed and crafted, according to your unique vision and style. From the selection of the timber species to the smallest detail in the design, we collaborate with you to create a truly one-of-a-kind dining table that becomes a cherished heirloom.
For those who love to entertain, our 8-seater timber dining tables offer ample space for family and friends to gather. Whether it's a large dinner party or an intimate gathering, these statement pieces provide elegance and functionality. And if you prefer a round timber dining table that seats six to eight, our range of Tasmanian wood options fosters lively conversations and memorable moments. Our solid timber dining tables and chairs are studiously matched for a seamless combination that complements your unique style.
Our versatile range of timber dining tables caters to various styles and needs, from the classic elegance of a Tasmanian Oak dining table to the sleek and modern design of a timber extendable dining table. We also cater to those who prefer timber dining tables with bench seats, providing a relaxed and inviting atmosphere for your loved ones. No matter the size or shape, each table is meticulously crafted to perfection.
Sustainable Solid Timber
Craig Howard & Son are inspired by the beauty and durability of solid timber. That's why we hand-select each log, carefully considering its unique grain patterns, texture, and rich colours. View our range of Tasmanian Blackwood, Tasmanian Oak and other Tasmanian Timber Species.
Our passion for quality and the environment inspires every dining table we create which is why we are committed to adhering to Tasmania's sustainably sourced timber policies set out by Sustainable Timber Tasmania.
Craig Howard & Son – Mastercraftsmen of Masterpieces
We invite you to discover the artistry and mastery of Heritage Furniture. Our large timber dining tables are not just furniture; they are masterpieces that bring warmth, elegance, and a touch of nature to your dining room.
Create and celebrate lasting memories around a timber dining table that tells a story of love, laughter, and lasting craftsmanship.